100 percent precision – efficient calibration and marking of laboratory glassware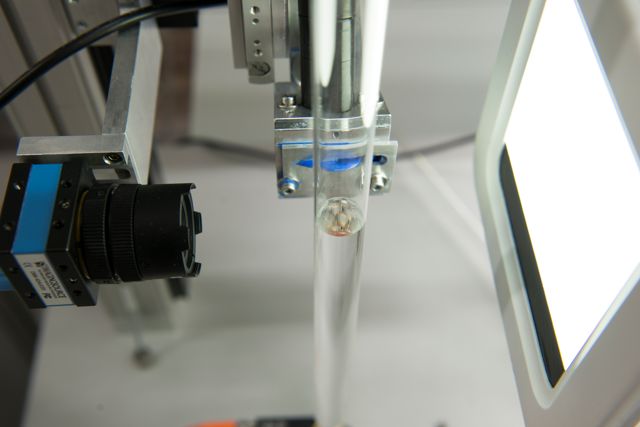 Precise volumetric glassware is essential equipment in the laboratory. They are permanently dimensionally stable, resistant to many chemicals and easy to clean. For the precise calibration/adjustment of laboratory glassware, Fraunhofer ISC's Center for Device Development CeDeD has developed in cooperation with laboratory glassware manufacturers various semi-automatic devices that work reliably, quickly and mercury-free. These calibration devices are supplemented by a new development of the Fraunhofer ISC, the MFD (Marking Firing Device). This allows calibration marks on volumetric flasks to be burned in quickly and reliably without a furnace. The prototype will be presented for the first time at ACHEMA 2018.
High-quality laboratory glassware is still produced today in Germany, often by medium-sized companies. It is subject to strict testing standards to ensure the required measurement accuracy for laboratory operation. Each glass vessel – for example a volumetric flask – is individually calibrated by an elaborate process after manufacture in order to be able to precisely apply the marking for the nominal volume. The pistons are filled under precisely defined conditions with the exact quantity of the calibration equipment liquid and the meniscus of the liquid level in the volumetric flask is marked. The devices AQUAJUST®cam and AQUAJUST®cam were developed in the CeDeD of the Fraunhofer ISC in order to be able to carry out this process semi-automatically and save time.
However, the marking applied individually with enamel colours - whether manually or automatically in the AQUAJUST®cam - still had to be burnt in at high temperatures in a furnace in order to be durable. The complete glass flask is heated to the melting temperature of the enamel. The baking process not only requires time and energy, it can also lead to softening of the glass bulb and thus to minor deformation. Under certain circumstances, this can lead to volume changes, so that the previously performed calibration devices of the measuring volume are no longer precise and the volumetric flask must be sorted out after the final quality check.
In order to avoid this process-related waste and to save time and energy, a new device has now been developed at CeDeD. It heats the volumetric flask only partially at the marked line to the point where the enamel melts and burns in. A high-intensity light source of the so-called Marking Firing Device (MFD), which is precisely aligned to the ring marking, burns in quickly and energy-efficiently. The glass bulb itself is heated only superficially at the marking, the stability and the volume accuracy therefore not impaired. For the first time, the prototype of the MFD will now be presented at the Fraunhofer booth at ACHEMA 2018 - Hall 9.2, Booth D66.
Read more about CeDeD and AQUAjust®cam.